For the coming Christmas holiday, FlipHTML5 announced the great news that it decided to offer the 20% OFF discount for its gold, pro and platinum plan to expand the influence of this flipbook software.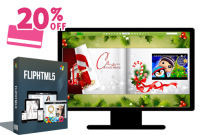 FOR IMMEDIATE RELEASE

Hong Kong, HK (PRURGENT) -- FlipHTML5 offers 20% off on the flipbook software(http://fliphtml5.com/), and the coupon code for this big sale is DAL-CF8. This is the first month such an offer is provided for gold, and pro members and platinum members can continue to enjoy this year as well. The discount sale begins now and will last for two weeks.

FlipHTML5 flipbook software makes the process of representing contents online with the lucrative look. It allows the material to be available on different platforms and facilitate readers to flip the pages manually or automatically.


Winston Zhang, CEO of FlipHTML5 mentioned that this attractive offer would help business to publish interactive digital catalogs and magazine for the coming New Year 2018. It can make the marketers to create the interactive flipbook for online marketing and boost the traffic to online shop. With the 20% off, they can have a test of the flipbook and enjoy the higher functions.


The best feature of FlipHTML5 is that it is compelling html5 flipbook software and allows seamless user experience on various mobile devices like Android, iPhone, iPad, and tablets. Every business is moving towards mobile apps this feature will be of great help.

It supports 17 languages and facilitates customizing the PDF files by adding videos and background stories. Further, as it uses the cloud platform, it can deliver a secure and high-performance experience to users. It can be used to create any materials like brochure or catalog and take the business to the next level. It is a great marketing tool.

About FlipHTML5

FlipHTML5(http://fliphtml5.com/) is an interactive digital publishing platform provided by Wonder Idea Technology Co. Ltd, and they are headquartered in Hong Kong. They support many industries with customized solutions including finance, fashion, and gaming business. FlipHTML5 continuously updates them on the technology to match the need of the people and business.