AnyFlip Releases its powerful free online brochure maker with the following features: excellent digital brochures making, easy to download and internet enabled on any search engines.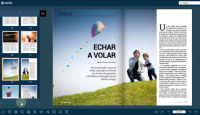 FOR IMMEDIATE RELEASE / PRURGENT


AnyFlip launches its free online brochure maker which intends to provide marketers with the solution needed for excellent creation of online brochures that gives viewers clear impression expected to achieve customer preference and brand loyalty.

This free online brochure maker offers by AnyFflip is the best tool that can guarantee an excellent digital brochure to customers that desires an interface digital experience. The flip-like brochures is unequalled, it is industry compliant with features that make it possible to be viewed on any web search engine using any internet enabled devises such as Android phones and iOS tablets. Also the flipping brochure created online by AnyFlip makes search on the web easy and fast and it quickly accelerates level of result and save time with its embedded features that are user friendly, with AnyFlip, customers can now find online brochures interesting using keywords and the integration the product offers makes it possible to easily synchronize with Google Analytics and this is programmed to support customers' tracking, visits and intentions with minimal effort.

"A market research outcome suggests that branding plays an important role in building loyalty and bond with customers, the online brochure maker is loaded with lot of features that help marketers showcase their brands thereby securing mileage over other competing brand in the market". Stated the C. E. O. of AnyFlip

About AnyFlip

AnyFlip is the leading technology provider in digital publishing software solutions. AnyFlip makes brochure maker that can convert any printed material into any form so desired and this will guarantee a clear digital publication with a perfect page flip effect. And the company software is currently in use in many countries of the world.