Callido Learning – an education startup that defined its 'digitally native content' in opposition to traditional publishers – is now an unlikely target for strategic investments by these same publishers.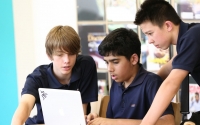 FOR IMMEDIATE RELEASE / PRURGENT


Mumbai, India -- When the founders of Callido Learning chalked out their game plan in 2015, one element stood out – the low adoption of technology in classrooms globally. Initial surveys they undertook showed tech adoption in schools had failed to take off even for the most pedagogically sound learning solutions as student interest waned. Major textbook publishers with decades of experience in print publishing faced this challenge.

"Conventional e-learning lacked depth" said Madhu Agrawal, a co-founder of Callido Learning and Head of Operations. "Old school publishers followed one of three formulas when it came to online learning content: PPTs with a voiceover, PDFs with some interactive, clickable elements or text-based, multiple-choice questions. Everyone could see students were not engaging with this type of content. Without the engagement, learning could not happen".

The solution? Fully immersive, game-like scenarios that draw on examples from global pop culture, add splashes of humor and reward student engagement through gamification. For example, when a student logs into the Callido platform, they are not faced with chapter names that correspond to their textbook. They are instead taken into the fictional world of a pirate ship that is under attack – complete with cannon fire and cannonballs rolling around on the deck. What do they learn? Math. The stacked pyramid of cannonballs is used as a context to introduce student to the foundational skills of algebra – spotting patterns and series, modelling data as equations or manipulating functions.

For educators – so long as the content is mapped to Common Core, the IB standards or other curriculum goals, the added engagement is a significant advantage.

"This is next-gen learning" said Chinmaya Kulkarni, one of Callido Learning's co-founders who oversees product development. "Long form text-based content does not work in K-12. Our biggest learning was in reducing the cognitive load by breaking down learning transactions into bite-sized chunks. To focus on engagement and learning, we moved to an 'Assessments for Learning' model that gives students immediate feedback that scaffolds the learning process"

It's not just the media and the instructional design – a lot of the heavy lifting is done by the tech behind it too. Adaptive intelligence serves up the right content for every student – students who demonstrate mastery zoom along, students who need extra help receive the scaffolding.

This innovation is expensive. Chinmaya, for example, spends over a third of his time and budget every year in exploring technologies like Augmented Reality and Virtual Reality – technologies that may one day either fade into oblivion or form the foundational platform on which all learning transactions take place. It's hard to say.

When asked to explain the secret to student engagement in e-learning, Chinmaya said, somewhat cryptically, "I can only say that at the highest level, Callido pairs the genius of a teacher with the instincts of a game designer".

This bet on the future of learning appears to have paid off as Callido Learning is now in advanced negotiations with two UK based publishers and one school operating group for a strategic investment in its India operations. "The interest from the publishing houses is driven by our capability in creating digitally native content" said Sriram Subramanian, one of Callido Learning's co-founders and Head of Sales. "The print publishers know the market inside out and we know the learner inside out. When our competition is channeled into collaboration, it can be a heady combination."

Callido Learning is a digital publishing startup based in India that creates Common Core aligned curriculum resources for critical thinking skills in the K-12 segment. It's digital curriculum for critical thinking is reviewed by Cambridge and adopted by over 50 internationals schools across 9 countries. It also owns Caliber - the only digital assessment for 21st Century Skills.