Groundbreaking design integrates 4 options for 1st and 2nd generation 12.9 and 10.5 iPad Pros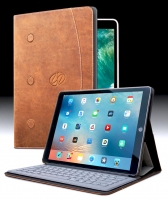 FOR IMMEDIATE RELEASE / PRURGENT


MacCase has begun shipping their new Premium Leather iPad Pro case that works with Apple's Smart Keyboard. The MacCase folio completely integrates the portable keyboard into the case design to create a seamless user experience. The new Folios also offer 4 optional accessories that expand functionality and allow for a certain degree of customization.

"These new iPad Pro Folios have been a long time coming and it's great to finally get them into the hands of waiting customers. The combination of the seamless integration of the Smart Keyboard, the level of protection provided, the fact you can be set up and working in under 2 seconds, the options and our industry leading build quality creates a user experience that is truly world class in every way ", explained Michael Santoro, Chief Creative Officer and President of MacCase.

The 4 optional accessories include a case for the Apple Pencil, a documents holder, a business card holder and a small pouch for cables, adapters and other accessories. The company's leather iPad Pro cases are favored by professionals around the world due to their timeless designs and unrelenting quality. More information on the MacCase Premium Leather iPad Pro case compatible with the Smart Keyboard is available at the company's website, https://www.mac-case.com/collections/ipad-folio-cases/products/ipad-pro-case-compatible-with-smart-keyboard

About MacCase

MacCase invented the Apple specific case market in 1998. The company offers two distinct products lines, one in nylon and one in leather that consists of a broad range of cases, messenger bags, sleeves, folios and backpacks for Apple iPad Pro and MacBook Pro models. MacCase products can be found at Ebags.com, LuggaePros.com, B&H, Walmart.com, Staples.com, OfficeDepot.com and MacMall. MacCase products can also be purchased directly from www.mac-case.com.