Paranormal Activity is heating up NYC's Grand Central Terminal this holiday season in a colorful rainbow of invisible luminescence courtesy of the Ghost Doctors and their new thermal imaging camera that's "seeing" its local ghostly inhabitants in a whole new light.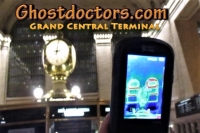 FOR IMMEDIATE RELEASE / PRURGENT


This holiday season the Ghost Doctors (known as Dr. Pete and Dr. Stew) noted paranormal investigators and licensed NYC tour guides will be going underground...deep underground. They'll traverse winding and cavernous passages, passing dimly lit train platforms all the while leading bands of fearless thrill-seekers on "real" ghostly hunts through the timeless iconic structure known as Grand Central Terminal in search of its spirited inhabitants.

The Ghost Doctors will first illuminate their courageous thrill-seekers in the fundamentals of paranormal investigations. From the proper use of a variety of ghost hunting tools of the trade, to relying on their own senses and wits to uncover the unusual and obscure. And after their training, they'll be more than ready to seek out a spirit or two still lurking in the shadows of New York's iconic Grand Central Terminal.

What's more, these intrepid ghost hunters are now employing a new piece of high tech equipment that actually allows them to see invisible thermal heat signatures turning the darkened passageways of Grand Central Terminal into an array of ghostly shimmering colors.

"One of the pieces of equipment our amateur ghost hunters will now be exposed to is the Perfect Prime IR0005 thermal imaging camera which actually "sees" thermal signatures even in total darkness," says Dr. Pete. "When we explain to our participants that visible light is only a narrow band within the electromagnetic spectrum it's really a colorful eye opening experience to discover that entering the infrared spectrum lights up an amazing new window to paranormal investigations."

According to the Ghost Doctors the Perfect Prime IR0005 thermal imaging camera is definitely a cool piece of equipment when looking for some hot paranormal activity

"What's unique about this thermal camera is that it's really sensitive, portable and easy to operate making it the perfect tool for paranormal investigations," says Dr. Stew. "Moreover, if we do encounter something out of the ordinary the camera allows us to record the image and download it for further evaluation."

Furthermore, the Ghost Doctors say each and every ghost hunt is unique as they never know what will turn up during one of their ghostly escapades and that's what makes it so exciting.

So, for some real ghostly excitement this holiday season take the train to Grand Central Terminal and meet up with the Ghost Doctors -- they hold the boarding passes for a hot or should we say a "thermal" supernatural holiday adventure.

Ghost Doctors (http://www.ghostdoctors.com), is the premier ghost hunting tour in NYC that actually allows participants to experience "real" ghost hunts. Their ghosts hunts are suited for public, private and corporate events.