From the balcony of honor the beautiful top-model Agatha Maksimova gave us the pleasure to participate in episode 4 of ArtCapital webmag which will be released soon.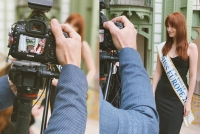 FOR IMMEDIATE RELEASE / PRURGENT


How about a walk in the heart of the contemporary creation? Art Capital expects you for the 14th year in a row at the Grand Palais from Wednesday February 13 to Sunday 17, 2019.


Top-model and Miss Europe 2018 2nd runner-up Agatha Maksimova was invited to the opening of the exhibition. She was particularly interested about Salon du dessin et de la peinture à l'eau (Drawing and Watercolor Painting Show).


Agatha gave an interview to ArtCapital webmag and took some photos with David Lebrun - the official photographer of the project.


Art Capital is the yearly unmissable gathering for artists and talents in France. It enables to 2000 artists to display their works, to inspire and be inspired as well. For these 4 days, we can discover and talk with contemporary art connoisseurs.


This show won fame across the years and delights with the variety of styles of the exhibitors and their freedom. Art lovers, creative minds and curious visitors can observe different works, from painting to photographs and even sculptures.