Edgar Perez, book author, keynote speaker and former strategy consultant with McKinsey, partnering with Terrapinn Training in 3-Day Masterclass in Cybersecurity in London, Dubai, Singapore and New York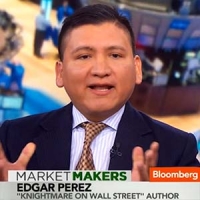 How companies can learn to protect their information from internal and external cyber threats is one of the key topics to be developed by well-known keynote speaker and trainer Edgar Perez, author of Knightmare on Wall Street and The Speed Traders, in his upcoming 3-Day Masterclass in Cybersecurity in Singapore, London, Dubai and New York.

Over and over the news comes as a surprise for most of the unsuspecting users who relied on services provided by companies that didn't have the appropriate protections of their data in place. Over and over as well it has been demonstrated that hackers didn't have to exhibit rocket-science sophistication to infiltrate the best-run organizations, at least from the outside. Most of the time it was a single failure of an employee who didn't stay up to date with regard to vulnerabilities in applications they were widely using, which could have been detected with monthly vulnerabilities scans.

"There is not even a place in purgatory for these employees, as many of these vulnerabilities could have been fixed by installing available updates provided by the developers," says Perez; he is a well-known international futurist, artificial intelligence and deep learning speaker who currently offers as well the world's first Deep Learning workshop for Fortune 500 firms and private equity groups.

RECENT TESTIMONIALS

• "Thanks for the great work training our employees. You really made a difference!" Global Chief Information Security Officer

• "After working with a number of vendors, we found your team to be in a qualitatively different level. By that I speak to your deep expertise and exemplary professionalism." Divisional Chief Information Officer

• "The team that Edgar has assembled is top-notch. There are no words to express our satisfaction with your high-quality delivery." Member of the Board of Directors

• "The program provides a comprehensive approach for any organization to lead in cybersecurity readiness." IT Coordinator

ABOUT EDGAR PEREZ

Edgar Perez is one the world's few business and technology experts who can light up a room with insightful and educational presentations on subjects that range from artificial intelligence and deep learning to quantum and neuromorphic computing and from cyber security to the latest on investing. A published author and energetic keynote speaker, he is Council Member at the Gerson Lehrman Group, Guidepoint Global Advisors and Internal Consulting Group.

Mr. Perez is author of Knightmare on Wall Street, The Rise and Fall of Knight Capital and the Biggest Risk for Financial Markets (2013), and The Speed Traders, An Insider's Look at the New High-Frequency Trading Phenomenon That is Transforming the Investing World, published in English by McGraw-Hill Inc. (2011), published in Mandarin by China Financial Publishing House (2012), and Investasi Super Kilat, published in Bahasa Indonesia by Kompas Gramedia (2012).

Mr. Perez has presented in front of thousands of top executives around the world through keynote speeches and both public and in-house corporate training programs on quantum computing, artificial intelligence, deep learning, cybersecurity and financial trading. He has presented in Beijing, Berlin, Boston, Chicago, Hong Kong, Jakarta, Kiev, Kuala Lumpur, Lima, London, Miami, Naples, New York, Santiago, Sao Paulo, Scott Air Force Base, Seoul, Shanghai, Singapore, Stockholm, Taipei, Warsaw and Washington DC, among other global capitals. He contributes to The New York Times and China's Sina Finance.

Mr. Perez has been interviewed on CNN's Quest Means Business, CNBC's Squawk on the Street, Worldwide Exchange, Cash Flow, Street Signs and Squawk Box, FOX BUSINESS's Countdown to the Closing Bell and After the Bell, Bloomberg TV's Market Makers, CNN en Español's Dinero, Petersburg – Channel 5, Sina Finance, BNN's Business Day, CCTV China, Bankier.pl, TheStreet.com, Leaderonomics, Channel NewsAsia's Business Tonight and Cents & Sensibilities.

Mr. Perez has presented to the U.S. Department of Defense, U.S. Securities and Exchange Commission, Council on Foreign Relations, Vadym Hetman Kyiv National Economic University (Kiev), Quant Investment & HFT Summit APAC (Shanghai), CFA Singapore, Hong Kong Securities Institute, Courant Institute of Mathematical Sciences at New York University and University of International Business and Economics (Beijing), among other public and private institutions. In addition, Mr. Perez has spoken at a number of global conferences, including Institutional Investor's CEO Roundtable (Berlin) and Global Growth Markets Forum (London), Cyber Security World Conference (New York), Inside Market Data (Chicago), Emerging Markets Investments Summit (Warsaw), CME Group's Global Financial Leadership Conference (Naples Beach), Harvard Business School's Venture Capital & Private Equity Conference (Boston), MIT Sloan Investment Management Conference (Cambridge), TradeTech Asia (Singapore) and FIXGlobal Face2Face (Seoul).

Mr. Perez was a vice president at Citigroup, a senior consultant at IBM, and a strategy consultant at McKinsey & Co. in New York City. Mr. Perez has an undergraduate degree in Systems Engineering from Universidad Nacional de Ingeniería, Lima, Peru (1994), a Master of Administration from Universidad ESAN, Lima, Peru (1997) and an MBA from Columbia Business School, New York, majoring in Finance and Management (2002). Mr. Perez is an accomplished salsa and hustle dancer and resides in New York.