Frank Chase Jr's book Kleptomaniac: Who's Really Robbing God Anyway reveals hidden biblical facts about tithing that are informative and unknown, which will leave readers shocked and amazed.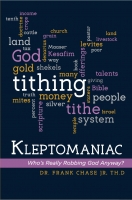 FOR IMMEDIATE RELEASE / PRURGENT


Madison, 2 September 2019 – Frank Chase Jr's, Kleptomaniac: Who's Really Robbing God Anyway wins a Book Excellence Award in the religion category. Founded in Toronto, Ontario, the Book Excellence Awards is an international book awards competition dedicated to recognizing both independent and traditionally published authors and publishers for excellence in writing, design and overall market appeal. Previous Winners and Finalists of the Book Excellence Awards have doubled their book sales, garnered attention from film producers, received distribution in bookstores and increased their visibility and media attention.

"When I won as a finalist I was shocked. I said to myself, this this is not true. I really felt proud and happy about all the work I put into this book over the years," says, Frank Chase Jr., "The book was recognized as a finalist in the religion category because of design, writing and market appeal. Audiences will benefit from reading this book because it reveals information about monetary tithing, an understudied subject long hidden from congregations. Readers will benefit from reading the book because they will finally get forthright truth and understanding about what biblical tithing is and is not and how it was practiced in the first century among the Hebrew people of Israel. From now on Christians who question tithing will have facts, proper exegesis, hermeneutics and scriptures to properly understand tithing in its proper biblical context as livestock and crops and not as a monetary ten percent required by God," which is why Dr. Frank Chase Jr. wrote the book.

Kleptomaniac: Who's Really Robbing God Anyway is a book that challenges reader what they thing they know about the subject of biblical tithing. Kleptomaniac: Who's Really Robbing God Anyway? The Untwisted Truth About the Centuries Old Tithes and Offering Deception examines the history of church tithes, a practice from the early days of Christianity which takes a darker turn as its history and connections to actual Scripture are probed from its original applications to modern times. This book examines the word tithe from the original Hebrew language and presents the authentic meaning of the orthodox term based on the land, language and literature of the Hebrew people. Dr. Frank Chase Jr., gives readers insight into the orthodox Hebrew definition of tithing, how its original meaning was turned into an unauthorized monetary fundraising tool to extract money, and who the culprits are who changed this sacred practice into a monetary money grab for centuries. The book helps readers, Christians and different religious groups know the difference between tithing and giving in the Bible and why paying ten percent of your income to a religious organization is not covered on the pages of the Bible. Check out the author's blog at https://tithenomore.com and check out the Book Excellence Award Honoree post at: https://honorees.bookexcellenceawards.com/#!/Kleptomaniac-Whos-Really-Robbing-God-Anyway-Religion/p/143373626/category=36034731

The book has already received some great reviews from industry leaders.
"Kleptomaniac certainly has an extremely intriguing concept. The investigation of tithing in the bible, history, and modern day is a unique and not-often-thought-of idea, which is explored quite eloquently here. Dr. Frank Chase Jr., Th.D. has incredible knowledge of the bible and a vast array of excellent sources to back up his points, which only adds to the validity of his writing. Whether readers agree with Dr. Chase's views or not, it cannot be denied that he certainly provides something interesting to ponder in this book. Kleptomaniac: Who's Really Robbing God Anyway? is a thoughtful, well-researched book that is equally respectful and revolutionary in its unique approach to an age-old, unspoken question--what is the purpose of tithing really?" wrote Member of Authors Talk About It team.

To purchase Kleptomaniac: Who's Really Robbing God Anyway visit the Book Baby and all other book seller websites. You can get it on kindle, iBooks, PDF and paperback.