Computers to cooking, the story of a passionate home chef.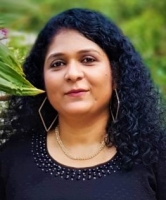 FOR IMMEDIATE RELEASE / PRURGENT


Indidiet, a venture by Mrs. Rani Sharad, has been gaining slowly in the world of YouTube DYI videos and has made its own space in the cooking recipes. Within a short span of time, some videos have crossed over 250K views and the authentic recipes being offered is a bliss for the culinary lovers. It will be good to hear from her the story behind the Indidiet.

Q. Rani, thanking you for being a part of this small conversation. Before we start, it will be good to hear more about you.
R: Well, I am from Kerala, stated as God Own Country, a southern state in India. I started my education in Mumbai as my dad was working there and later moved back and settled in Kerala. Then I got married and moved to Dubai in 2002 and have been living in UAE for the last 17 years. My Husband's name is Sharad Kumar and got two lovely sons, Shiva and Sohan.

Q. What about your studies?
R: I did my graduation in Computer Science and was pursuing Master's in Computer Application, when I got married

Q: Computers to cooking – that's a drastic change!!!
R: It may look like, but I would say it's all related.

Q: Then how it ended up with Indidiet?
R: Well, Indidiet is not my first venture, to be frank. I had free time when my kids started school and I was looking at various options. I went into ladies' designer wears and ran it for over 2 years. Then I realized the difficulties with running a retail outlet and losing the quality time with family, especially during evening, when the whole family is back home. I had to let it go unwillingly. Then I started Terracotta jewelry making, making some unique models !!! I always had good support from my family and in-laws, otherwise couldn't even think about these endeavors.

Q: Computer to designer wear to jewelry !! Sounds interesting.
R: I always wanted to use my spare time for something creative. I was fond of cooking and trying out new stuffs. I was experimenting always with recipes and whenever there was party at home, instead of ordering from restaurants, I was making most of the dishes inhouse. I enjoyed doing it and when people started asking for the recipes of the dishes they had, I realized that I may be doing something good and different. Sometimes I do get phone calls, asking for the tips and quick recipes from my friends. Maybe I was just passing on the skills I learned from my Mom and my Mom-in-law!!!

Q: So from home cooking into professional videos - How the idea of Indidiet came up?
R: During my spare time, I started studying Food and Nutrition course, learning more about what we are eating and what we should eat. Moreover, repeated requests from my friends on the recipes, forced me to come up with something which can be shared with all. So one day, Indidiet website (www.indidiet.com) and YouTube channel (www.youtube.com/c/indidiet) was formed.

Q: Creating a YouTube channel is not easy. So how was the starting?
R: I watched various YouTube cooking videos and realized that authenticity was missing. So my focus was to replicate traditional recipes and try to make it in a simple format, so that anyone can try it and the taste will remain the same. I have to mention the support from my husband, without which this couldn't have started at all. Then how to do the shooting, cooking, preparations, editing etc etc… long story short, had to struggle initially a lot to complete each video, update website, write down the recipes etc, considering that I am doing in single handedly. I wanted it to be more global, so never wanted to have any voice overs, instead preferred English texts and totally avoided any chit chat. But I do get request to show my face many times though!!

Q: It seems lot of hard work goes into a video, can you please share more details?
R: The 3 to 4-minute videos that you all see, have days of preparations in the background. Once a recipe is identified to be converted into an Indidiet video, lots of research work is put in – talking to people, reading etc. Then I start trying them out couple of times. Husband and kids will be judges and once I get the green flag, will go ahead with the videos. My dad and brother keep motivating and send suggestions for new recipes. Moreover, we have friends in different parts in India and world, which help to identify the local flavors and the special touch. Almost every week one video is released, so that this keeps me occupied throughout. Apart from cooking videos, dietary information is also shared, like the video on Garden Cress seeds( https://youtu.be/YQ47vH4Pg8Q ) which will be helpful for the inquisitive minds and also some herbal dishes are covered. For example, ayurvedic preparation of "Oushada Kanji" ( https://youtu.be/p6qJItajwUA ) is ideal during rainy season.

Q: We have seen some global dishes as well.
R: That's because Dubai is the culmination of the global flavors and so Arabic, Chinese, Mexican, you name it … its readily available. I try to stick to the traditional preparation of these and make it available for all to refer. My husband keeps traveling a lot globally and so he also shares names of dishes and new items from all over the world. He himself is a foodie and so fond of trying out new dishes.

Q: Any favorite videos from the whole list of over 140 recipes?
R: I like all of them, all are my babies!!! Some are innovative videos like the preparation on Shawarma at home (https://www.indidiet.com/recipe/arabic-chicken-shawarma/), then preparing the famous Ramasseri idly (https://www.indidiet.com/recipe/ramasseri-idli/) etc are highlights.

Q: So, what next ?
R: The love and the feedback I get from the friends, viewers, comments etc keep me going. Lot of improvements on the channel and website were indeed suggested by others. I have to keep innovating and need to come back with more authentic dishes, forgotten dishes, fusion recipes etc. It's a long list. Some other ventures are also in mind, which will be known shortly.

Q: Finally, any advice to the newcomers to cooking?
R: I would like to advice all that cooking is not something only a trained chef can do. If you are patient enough, you can easily pick it up and make even the restaurant style dishes at home. I always recommend doing that, so that the food remains healthy. Once you start enjoying cooking, you will start experimenting thereby creating your own recipes. Please keen in mind to eat healthy and stay healthy.

Thank you, Rani Sharad, for sharing the info and wishing you all the best. Hope you will be able to come out with more tasty dishes and waiting for those.