New single release - Pop, funk, soul, electronic and a tint of jazz music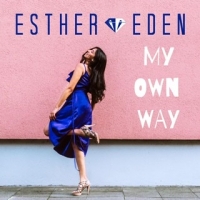 FOR IMMEDIATE RELEASE / PRURGENT

Berlin, Germany – November 14th, 2019: Pop, funk, soul, electronic and a tint of jazz music – Esther Eden's latest track 'My Own Way' is done with just the tone.

The artist uses her songwriting to express the words she would have wanted to say in her everyday life but doesn't. "The song speaks more than I ever would as a person".

'My Own Way' has got truth, sass and a whole lot of empowerment for anyone who has felt let down and haven't we all? the artist says with a smile.

'My Own Way' is sung with a groovy-reggae guitar rift which is played softly enough to hear Esther's powerful voice. She sings the lyrics effortlessly with a giggle at times and anger at others bringing her own attitude into the lyrics. An empowering synthesizer along with the funky bass riff in an ever-so anticipating chorus, adds a base and a modern touch to the track.

The artist's playful vocals are influenced by her loving mother, who used to be a jazz singer. Being influenced by many different genres, cultures and experiences helped shape Esther Eden's image and sound. The artist chooses not to constrain herself to one genre or style. "I'd rather go 'My Own Way'".