Modern Art and Star Trek Fans Have Two New Posters to Add to Their Collections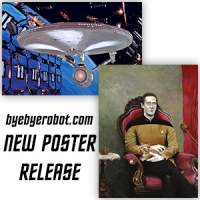 FOR IMMEDIATE RELEASE / PRURGENT

Austin, Texas – November 25, 2019 Bye Bye, Robot is announcing the launch of two new Star Trek fine art prints, by artists Chris Nielsen and Jonathan England, representing Star Trek: The Motion Picture and Star Trek: The Next Generation.

We are excited to be adding two new artists to our roster of talent. The first new artist working with Bye Bye, Robot is Chris Nielsen, and he brings with him his detailed depiction of the U.S.S. Enterprise in space-doc, as seen in Star Trek: The Motion Picture. This new artwork catches the view of the ship as if the viewer is aboard the shuttle standing beside Kirk and Scotty on their approach. This new piece is full of vibrant blue hues and angular lines. The contrasting values of color are a distinct characteristic of Nielsen's artistic style, right alongside of his use of multiple solid tones of color contained within unique sharp shapes. Entitled "In Awe" this new print is 16"x24" on heavyweight acid-free card stock.

The second new artist in this release is Jonathan England, and he brings with him his classic portrait of Mr. Data and his cat Spot. This is a portrait that fans may already be familiar with, from its original limited release some years ago. This portrait combines the futuristic and the classical with its composition of Mr. Data seated in a red velvet chair in his quarters on the Enterprise holding Spot on his lap, all while in the style of a traditional oil portrait. Entitled "Ode to Spot" this new piece is 18"x24" on heavyweight acid-free card stock and presents imagery from Star Trek: The Next Generation.

Charity Wood of Bye Bye, Robot mentions, "We are so thrilled to be bringing two new artists aboard with such beautiful original artwork. These new art pieces represent some of our most treasured moments in Star Trek, and we are delighted to be sharing them with all of you."

Under license by CBS Consumer Products, each of the new art prints are printed on acid-free archival heavyweight cardstock and are available for $25 each. They are available in the U.S.A. for purchase, beginning today, from byebyerobot.com at the price listed above, plus shipping and tax where applicable.

™ & © 2019 CBS Studios Inc. All Rights Reserved. STAR TREK and related marks are trademarks of CBS Studios Inc.

# # #

Chris Nielsen is an artist and educator, creating artwork for many different IP's while also being an associate Professor in the California University system. He works exclusively in Adobe Illustrator using only flat-colored shapes which he describes as, "defining a new reality in a digital medium."

Jonathan England is an artist based in Austin, Texas specializing in portraits. He is inspired by beauty and the human form. His style often juxtaposes bygone traditional, classical art style with modern objects and people, effectively intermingling the old world with the new.

About Bye Bye Robot, LLC
Founded in 2011 by Charity and Chris Wood, Bye Bye Robot is an independent publisher of art. Currently, they are a licensed seller of original works of art based on all of Gene Roddenberry's live action Star Trek™ TV series plus Original Series and Next Generation movies. Bye Bye Robot is dedicated to creating deeply immersive, visually spectacular pieces of art that will amaze and inspire viewers for generations. View their catalog at www.byebyerobot.com.

About CBS Consumer Products
CBS Consumer Products manages worldwide licensing and merchandising for a diverse slate of television brands and series from CBS, CBS Television Studios and CBS Television Distribution, as well as from the company's extensive library of titles, Showtime and CBS Films. Additionally, the group oversees online sales of programming merchandise. For more information, visit www.cbsconsumerproducts.com.