Williams took top honors in the Top Female Author awards program for her recent book, 'A Collection Of Poems: A Journey Through Life'.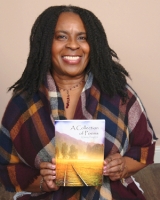 FOR IMMEDIATE RELEASE / PRURGENT

We know that the timing of the reopening of our school systems has become a political issue; an issue that creates fear and trepidation in the minds of both parents and educators. Award winning author Cheryl Williams is intimately familiar with Covid-19 as she is one of the survivors. She is also a school nurse, musician and film maker.

Bringing a number of her talents to bear, Williams recently filmed a video in which she interviewed a parent whose son, age 14, contracted the coronavirus. It is as compelling as it is informative.

"With schools on the verge of reopening and the coronavirus still wreaking havoc on our communities nationwide, I recently sat down for an interview with a parent on my segment 'Covid-19 and my child, Williams stated.

"Mrs. Rodriguez's healthy fourteen year old athletic son Anthony became very ill from complications of Covid-19. She expressed how upsetting it was that she had to fight for her son to be administered a Covid test due to the fact that he didn't have a cough and was low risk.

"Due to the misconceptions that kids don't get that sick from Covid, a lot of people are nonchalant when it comes to testing kids. During the interview, Mrs. Rodriguez went on to explain that after her son was finally administered the test, two days later the doctor's office called to confirm a positive result and asked that she bring him in for a chest X-ray. She expressed her frustrations when Anthony's chest X-ray revealed a partially collapsed lung.

"As per mom, 'her son wasn't going to die on her watch', she continuously monitored his respiratory rate oxygen saturation every four hours. Five days after his diagnosis she became concerned as 'he didn't look himself, and his oxygen sat was 93 percent'.

"That was when he was diagnosed with double pneumonia. She kept a close eye on him, administering his prescribed medications and monitoring his vital signs. According to Mrs. Rodriguez, it has been four months since his diagnosis and her son has now developed a heaviness in his right arm.

"He cannot eat and breathe deeply at the same time, is extremely fatigued, has scarring on his lungs and has ongoing doctors appointments and lab tests to determine what these signs and symptoms may indicate. She explained how terrified she was for her son, watching him suffer and not being able to take the pain away.

"When I asked Anthony how the virus impacted him. He responded: 'It was really scary at first for me, like I didn't know what was actually gonna happen to me.'

"He went on to explain that if he had the opportunity to educate kids about this virus, he would tell them 'having COVID-19 isn't a good experience, and remind them that anyone can get it - not just the elderly.'

"In retrospect, mom expressed how using mommy instincts and fighting for her son to get the care he needs is something she would do again in a heartbeat. She wants the world to understand that children do get sick and die. As Mrs. Rodriguez stated, one thing that still haunts her to this day was hearing her son ask if he was going to die. She is eternally grateful that her son is alive and hoping that he would make a full recovery without any lasting side effects.

"When I asked how she saw us getting past this Pandemic, this was her response:

'We need the general public's help to do this. We need them to acknowledge that this virus is not going anywhere until we do our part to stop it.'

"She urges everyone to take social distancing, wearing masks and hand hygiene methods seriously.

"Everyone is looking for that one leader to guide us and unfortunately they will not find that. They have to look at their neighbors, their friends and their families and help each other get through this.

"Mrs. Rodriguez wants us to think of Covid-19 as cancer. 'It does not discriminate. It affects anyone and everyone. Some treatments work and some don't. Some people live and some die. If they told you that wearing a mask in public and social distancing would prevent you from getting cancer, wouldn't you do it? So think of it that way.'

"According to Mrs. Rodriguez, Covid-19 is pretty much like Russian Roulette. 'We don't know who will get it, who will survive it, and who will land up with debilitating side affects as a result of it.'

"I asked Anthony if Covid-19 changed the way he now views life:

'It did change my perception on life' he said. 'It helped me to value each passing second with full attention and gratitude.'

The full video interview is now available at https://www.youtube.com/watch?v=Kk4lGP8Dwsc&feature=youtu.be. She also recently posted a mesmerizing account of her coronavirus experience in a Youtube video at https://www.youtube.com/watch?v=ZpN7nMt8gf0&t=91s.

Williams was named Top Female Author in the 2019 Top Female Author Awards in the poetry category. The win came as the result of her most recent book, 'A Collection Of Poems: A Journey Through Life'. Williams was chosen from a field of hundreds of authors by a panel of judges.

Writing has helped Williams connect with her inner self, finding positive ways to cope with life's struggles. She has been writing and singing for as long as she can remember.

Throughout her childhood she sang in both the church and school choir, and also enjoyed singing at talent shows and music festivals. As an adult she also participated in concerts, performing as a solo artist.

Music and writing are the tools that bring her fulfillment and healing. Her book, 'A Collection Of Poems', takes us through the power of the human mind, good or bad, and its impact on one's direction and journey through life.

With the help of music, writing, and positive thinking, Williams found hope and purpose in life. Life isn't fair. It is unpredictable, bad things happen to good people, and we never know what tomorrow holds. Cheryl wants her readers to realize that even when faced with insurmountable, hopeless situations, even when life seems dark and uncertain, we should never let go of hope and appreciate the beauty and blessings that life has to offer, making the most of every day, loving, living, laughing, and learning. Seasons change, and there is always a rainbow after the storms of life.

Cheryl Williams is available for media interviews and can be reached using the information below or by email at cherylw27
aol.com. 'A Collection Of Poems: A Journey Through Life' is available at Amazon. More information, including a number of videos and a collection of music, is available at her website at https://cherylhot6.wixsite.com/cherylpwilliams.

About Cheryl Williams:

Cheryl Williams is a wife, mother, author, and nurse by profession, with a passion for the Arts.

Her love for poetry started at the tender age of five when she recited the poem "Grandfather Frog" for a school function. Six years later, her world was turned upside down after her mother suffered a massive stroke. During those uncertain times, music, writing, and poetry helped her cope.

As a teenager, whenever she wasn't caring for her mother, Cheryl spent her free time writing and directing short plays as a form of entertainment for the children in her neighborhood.

She enjoyed singing in the church and school choir, while also performing publicly as a soloist in concerts and talent shows. As a result of her mother's illness and her responsibility to help care for her, Cheryl was inspired to pursue nursing as a way to help others heal; the same way writing and music helped her find a path to healing. She resides in New York.