With Mango Animate's animation software, users can create many different creative videos that meet the needs of their target viewers.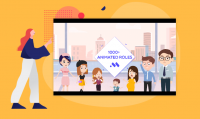 FOR IMMEDIATE RELEASE / PRURGENT

Mango Animate has provided its users with feature-packed animation software (https://mangoanimate.com) to help them express their ideas creatively and engage their audiences. With this software, they can use animated videos to communicate concepts and tell their stories in a unique, but easy to perceive manner. In this way, whether they're targeting children or adults, their animated videos will be well understood by the audience targeted. The animation software will help them create video projects that can connect them with many people across the globe. They incorporate hand-drawn and 3D animations, which make them fun and entertaining, making viewers feel engaged and comfortable as they watch.

Mango Animate's animation software is a powerful creative tool that helps users generate instant viewer attraction by conveying effective animated video messages. Animated videos are known for keeping the mood light while delivering the right message to the targeted audiences. When integrated with multimedia elements such as images, colors, music, and more, they transform stories into visual treats that thrill people who get to view them. This triggers discussions among the audience who will then share them with peers across social platforms.

"Our animation software helps users manipulate objects, characters, and motions so they can drive their point across," said Selena Lee, Chief Designer of Mango Animate. "It has innovative modeling features which will let you build the right characters with excellently defined roles to make your animated videos more realistic, impressive, and quite engaging. It is also easy to tweak the effects in your videos to make them perfect for your viewers."

The animation software empowers users to breathe life into their content by converting all their ideas and concepts into lively animated videos. They can tap into their audiences' emotions, making them sentimental as they absorb the messages being conveyed. Through their customized animated videos, they can communicate a lot of information without boring viewers. They are effective in engaging and motivating people to take the much-needed action animators are looking for.

Using animation software is a very effective way of storytelling. Users can create animated videos to exhibit real-life instances to viewers. By doing so, they'll help them understand better the message they're trying to put across. This is the first right step towards capturing their attention and making them stay longer to watch the next scenarios as they unfold. If the animated videos are specially designed for marketing or promotion, they become a sure way of generating leads and conversions.

For more information, please visit https://mangoanimate.com.

About Mango Animate
Mango Animate is an adept software developer whose aim is to empower its clients with the right tools to excel in their ventures. The company designs revolutionary animation software with innovative features for creating a variety of animated videos for diverse purposes.