Mango Aniamte's new character animation maker will make the task of creating cartoon character from photo no longer difficult.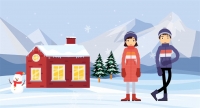 FOR IMMEDIATE RELEASE / PRURGENT

Mango Animate's character maker supports users to edit the pre-made characters and create cartoon character from photo(https://school.mangoanimate.com/how-to-create-cartoon-character-from-photo-free/). By paying a one-time fee, users can create exciting and diverse characters that will make projects and presentations truly captivating and astounding. Producing studio-grade cartoon characters couldn't be easier with Mango Animate CM as even beginners are capable create cartoon character from photo.

"Mango Animate CM allows even those who have no background in designing graphics to create cartoon character from photo for business or pleasure," says Winston Zhang, CEO of Mango Animate. "Besides using them to entertain the family and friends, cartoon characters are a powerful tool to engage with the audience and present your message without losing their attention. The ability to create cartoon character from photo makes the whole process much easier."

Users no longer need to spend time and energy dreaming up their own characters. With the help of Mango Animate's character maker, anyone is able to produce distinctive and unique characters from truly diverse backgrounds and walks of life. What users have to do is to import photos as PNG or PSD files and add bones to the character then give the character different expressions and poses by manipulating the bones. Meanwhile, a huge motion library is available to give new characters a range of lifelike motions that cover every situation. Users can select the facial expressions or body motions that they want to add to the character.

Similarly adding distinctive features to the newly created characters is simply a click away. Users are encouraged to exercise their creativity and give their characters unique facial features and distinctive items of clothing. Beards, glasses, hats, shoes, and clothing are just some of the customization options that are available with Mango Animate CM. For those who don't wish to create cartoon character from photo, a large library of pre-made characters is available, making the animation process more effortless. Once created, the cartoon character can be shared in a variety of formats including MP4, MOV and, GIF.

For more information about Mango Animate's cartoon character maker, please visit https://mangoanimate.com

About Mango Animate
Mango Animate, a young technology company, aims to provide advanced animation software for average users. And this company is committed to enabling individuals and organizations to use animations to effectively communicate their message to their target audience.