UK blinds and awnings has recently done an awning installation work for Surrey client.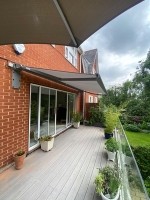 FOR IMMEDIATE RELEASE / PRURGENT

Radiant Blinds and Awnings, an awnings and blinds manufacturer and installer based in Surbiton, Surrey, has recently done work installing a new patio awning for the client's deck area of their family home in East Molesey, Surrey.

The Weinor Cassita patio awning Radiant has installed is a versatile awning that ticks many boxes. It is sleek and contemporary. It can measure up to 5.5m wide and clients can have integrated LED lighting if they wish. There is also a choice of manual or electric operation and the patio awning can cope with wind speeds of up to 20mph, although Radiant recommends to bring the awning in when it is windy or in any adverse weather conditions. The fabric choices are many and made to last which makes them water resistant, dirt resistant and have UPF sun protection filters.

Radiant Blinds and Awnings were proud of a job well done and claimed that the new patio awning is a great way to give shade and presence to the client's home.

About the Company

Radiant Blinds and Awnings supply blinds, awnings and canopies for private residences and businesses including cafes, shops, hotels, and restaurants since the business started in 1955. They employ a team of expert fitters who install the products they supply. All of their quality products are made to measure to suit the clients' custom requirements. The company has a factory in Surbiton, Surrey where they manufacture the blinds and awnings, and other solar shading products.

More information and details about the patio awnings they install can be found on their company products web page at https://www.radiantblinds.co.uk/patio-awnings/.