Music Industry meets Community! Back to the Music Hollywood!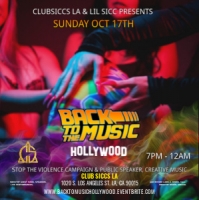 FOR IMMEDIATE RELEASE / PRURGENT

Today's Millennial world cries for a better future tomorrow. B2TMH brings you a reinvented mixer in support of Community action awareness such as Aids, Cancer, Violence and the things we all face in everyday life challenges of today. Back to the Music Hollywood is a Positive branded Music Mixer event of Professionals within our Community and Music Industry under one roof. In support of the independent Artist, Back to the Music will provide service giveaways, Industry resources, and more for the serious Independent Artist. "Back to the Music Hollywood'' is brought to you by Austin Texas most notable Promoter
LilSicc, his production company
clubsiccs and professional friends ie;
iamAustinMartin, The Clout Network,
michaelsterlingfilms, Viralmediaboostonline,
artistconnext,
juelsofrome, industry top DJ's, Execs, and many many more. Don't miss The first of many to come, and only Industry Mixer / community networking event of it's kind "Back to the Music Hollywood", on October 17th, 2020 at CLUB SICCS 1020 S. Los Angeles st., Unit B, Los Angeles CA 90015.

Hailing outta Austin Texas, Lil Sicc has taken on the west coast through his Music, Hustler mentality, and Great vibes. A Dreamer in Action, An Artist, Musician, and CEO of his movement "Hollywood Experience" & "ClubSicc's" talent production companies has been thriving. Lil Sicc and his talents continue to release non-stop Music Heat, documentary series, and not to mention his upcoming Movie release "Packz" and much more. Lil Sicc and his Hollywood Experience
clubsiccs brings you Back to the Music Hollywood. Lil Sicc is building an entourage across the West from Hollywood to Las Vegas and beyond with top influencers, industry, and west coast sexiest people.

Join us this coming Sunday October 17th
clubsiccs located in Los Angeles.