If spirits, hauntings and paranormal activity is something you seek this Halloween season then the Ghost Doctors just may have your ticket for one sizzling ghost hunting tour adventure in the heart of Old Town Manassas.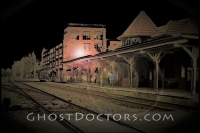 FOR IMMEDIATE RELEASE / PRURGENT

This Halloween season The Ghost Doctors (aka Dr. Pete and Dr. Stew nationally know paranormal investigators and experienced tour guides) will be leading groups of courageous amateur ghost hunters on actual ghostly explorations through Old Town Manassas-- the home of the famous Civil War Manassas Gap Railroad Junction. With equipment in hand like something out of a Halloween supernatural holiday blockbuster, they'll prowl this amazing historic town passing century old buildings and railroad crossings for signs of paranormal activity.

After a crash course in the basics of ghost hunting 101 including the use of whole doctors bag filled with electronic ghost hunting equipment the Ghost Doctors will lead their rookie ghost hunters past century old buildings that line the darkened streets of Old Town Manassas in search of its paranormal essence.

All the while the Ghost Doctors will be emphasizing this Civil War era town's old iconic buildings and historic relics still left standing from a time long gone while keeping a keen eye on the clock as it strikes near the witching hour this Halloween season.

"We have investigated Old Town Manassas for some time and have found signs of paranormal activity especially around some of the older historic building that have been around for well over 100 years", says Dr. Stew

The Ghost Doctors say, ghost hunting in Old Town Manassas is almost like being in an outdoor museum which comes complete with a working railroad and historic structures that makes it the perfect place for one heck of an action packed ghostly adventure.

"What is so fascinating about exploring Old Town Manassas is that every ghost hunt is never the same...one never knows what strange paranormal activity we'll encounter in these different historic locations especially during the Halloween season, making it one heck of a trick-or-treat adventure," says Dr. Pete.

Ghost Doctors (https://postdoctoral) is the premier ghost hunting tour in Northern Virginia that actually allows participants to experience "real" ghost hunts. Their ghosts hunts are open for public, private and corporate events.