Innovative Signage Solutions Streamline Campus Communication and Enhanced Wayfinding on Large Campuses with Multiple Buildings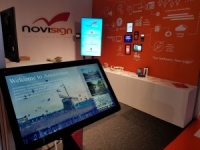 FOR IMMEDIATE RELEASE / PRURGENT

New York City, NY - NoviSign Digital Signage is pleased to announce the immediate availability of new all-in-one completely customizable https://www.novisign.com/solutions/education/colleges/ college and university digital signage solutions. These all-inclusive digital signage solutions enable campuses to transmit information quickly and efficiently in an attention-grabbing manner. The benefits are numerous - from enhancing the college's reputation to awarding students for their achievements to notifying students of upcoming seminars, alumni events and other exciting school events.

Class Schedules, Event Listings, and Campus Activities
Streamline campus event sharing with event screens that provide dynamic updating of real-time university news, class timings or cancellations, seminar and event hours, college application deadlines and other campus-related announcements.

Lobby Welcome Screens & Video Walls
Consider going huge and erecting large video walls to greet and instruct students. Share vibrant and engaging 4K videos and critical campus news and updates. Include a college's Instagram and Twitter social media feeds to increase social interaction.

Canvas, Google Slides and PosterMyWall
With just a single click, import all presentation materials from external sources. As NoviSign connects with many systems, the design process is simplified and users are spared the hassle of learning a new platform.

About NoviSign Digital Signage
NoviSign is a cloud-based digital signage software solution provider with over 50,000 screens deployed across five continents. Clients include Disney, Ikea, Dole, Home Depot, NASA, Nokia, Ferrari and Papa John's Pizza.

Also included with NoviSign's platform is a world-class support and training portal that offers step-by-step training videos, FAQs, complete technical documentation, phone support and online webinars.