Banqua has decided to sponsor the PixelsSquad channel founded by Diego Pellacani. Banqua is a company that invests in renewable technologies and green sports and innovative startups with its own BNQ token.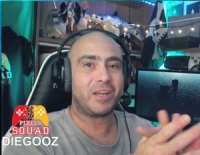 FOR IMMEDIATE RELEASE / PRURGENT

Diego started streaming on Youtube, that is, broadcasting live, on Youtube during the first quarantine caused by the well-known virus. What started out of passion and to occupy those days closed at home. Immediately many people began to follow him both to play with him during the live shows and to have fun with his jokes and his companions, considered very funny and nice.

His team was joined by guys like Giuggi, DoggoLuke, the Leggiadro, Fluffy, Leandra, Chiara and Elizabeth, considered the queen of the Community! All met during the live shows on his channel: https://www.youtube.com/pixelssquad
Even his son Oliver is often present to play with the fans, small but "sgam" and quite funny!

The games they bring to live are Fortnite, GTA Roleplay, Escape from Tarkov, Stumble Guys but also other less known titles. The PixelsSquad team, as the group is called, is sponsored by the innovative company Banqua https://banqua.io with a renewable energy technology token called BNQ.


Banqua has developed a token called BNQ for Ethereum and Binance-based renewable energy technologies. A simple platform These are fractional investments in green sports, renewable technologies and innovative start-ups.

Besides being active on Youtube for the public they are also active on their Discord server where they can be found even when they are not live. In Discord they help those who need assistance with their computers and consoles.

Known as PS_Diegooz and nicely called by everyone "Pelato", Diego entertains during his streams, there are many guys who line up to wait to be able to play a few games with him.

Compared to other very famous streamers, in fact, with him there is always the possibility of playing together and being able to talk to him.

Diego also runs a Minecraft server, a video game that is popular with children, teenagers and adults. The Banqua logo was inserted on the server, during the "construction" the boys of the team participated, led by Engineer DoggoLuke.