Looking for a Luxury Resort in Jim Corbett, Ramnagar for holidays, weekend gateways, or family vacations? Book best resorts in Jim Corbett National Park.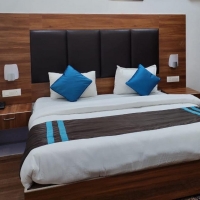 FOR IMMEDIATE RELEASE / PRURGENT

Jim Corbett National Park being India's first national park established to safeguard the Royal Bengal Tigers. Coming to this amazing destination, you can spot elephants, deer, leopards, sloth bear and other flora and fauna species. Himalayan Mountain is the best for thrill-seekers with leisurely forest trails and jungle safari sessions, trekking, nature walk, and even more. Coming to Jim Corbett and staying at one of the most feasible accommodations can help you experience not just the wildlife but the local culture and cuisine of Uttarakhand especially the Kumaon region. Just give a thought to enjoying a ride in the jungle while listening to the local music, sitting with the family by the riverside, having chai-pakora at evening within forest, and that pleasant and earthy smell in the breeze. Doesn't that feel soul soothing!


Come to explore nature coming alive at this Jim Corbett resort. The resort is a perfect blend of luxury, serenity, modern, and recreation along with a panoramic view of the quaint valley. Relax on your stay at this resort, which can meet your expectations and preferences when looking for a place to stay away from your home. Enjoy local Kumaoni cuisine, rich in local millets and greens, prepared by our skilled chefs to and are nourishing to your body with being delicious. Lounge at the resort of Jim Corbett Park, and get a chance to relieve yourself from all the stress of chaotic life at this location, as the surroundings with natural hues and birds chirping will boost your energy and mood.

Spend time with your loved ones

The Seven Corbett Resort is a well known property nestled near to the Sitabani zone. It offers you a range of luxury accommodation to suit every budget of the guests visiting here. There over 18 full-fledged rooms including cottages, glass rooms, superior, and executive rooms to offer you a comfortable and memorable stay in Ramnagar. All the rooms have modern amenities like LCD TV with satellite channel, intercom facility, Attached Bathroom etc. You can book your accommodation here for celebrating birthday parties, anniversaries, destination wedding, or festival celebration in Jim Corbett. They will help you organize the occasion as per your preferences.

It is a great luxury resort in Jim Corbett Ramnagar with the well-furnished different categories of rooms. The property has got the reputation of a resourceful resort with its great services offered at affordable prices in the segments of wildlife tourism. They have an expert team that can help you plan your meeting, wedding, dinner, lunch, professionally from start to end. They also offer custom Corbett tour packages to help you plan your trip to this adventurous location and enjoy every moment when you are at the location.

Feel the Difference Because You Have Lot More To Do

They provide you with the finest accommodation with well-furnished rooms and great amenities that will perfect anyone customers. They'll make stay for our guests comfortable & homely with the warmest hospitality and customized attention. The resort has well-designed rooms for providing utmost comfort and convenience. Rooms are rich in feature with conveniences along with bright & breezy services make your purpose of staying at Corbett Fun Resort absolutely memorable.

The National Park offers fun and adventure activities for all age groups such as trekking, rappelling, nature walk, jungle safari, sightseeing, riverside walk, and many more which will take you out form your comfort zone and fill you with positivity and thrill. Jungle safari in Jim Corbett will allow you to explore the hidden wildlife of the jungle. For those seeking for an affordable option, this resort is what you want right now to book a stay for this vacation in the Corbett Park.

Feel the inner peace with positivity

This resort is among the few Jim Corbett resorts planned and executed according to offer a stay that gives a homelike feel. Here, the staff working with them always serves you with happy faces ready to fulfill your request. The Seven Corbett Resort comprise of a serene retreat and a luxurious dominion where you can adore the magnificent view of the petite hours, the sun soaking at the dusk and the clear sky with stars at the night. Outfitted with lavishly facilities and a thriving beauty, this resort can be your next accommodation in Jim Corbett.

The enhanced quality services are offered with the surrounding's daintiness, warm ambience, and the aesthetic vision marking its uniqueness among other Jim Corbett resorts. The resort will deliver you a exhilarating experience to make memories that last forever.

Seven Corbett can be your ideal place to accommodate in the Jim Corbett National Park, if you want a luxurious stay far away from the hubbub of the swarming cities. We all are so busy in our monotonous life and careers that we have forgotten to take time to live our life. Thus, what else can be a better place to rejuvenate than green lush mountains and forests? Seven Corbett is one of the finest resorts in Jim Corbett based in a place encompassed with the beautiful forests and wildlife. The resort has a staff passionate towards the hospitality to deliver a world-class experience to the customers.