Announces the expansion of South Korean company Rainbow Robotics into the U.S. market. Known for developing the first bipedal humanoid robot, HUBO, which won the DARPA Robotics Challenge.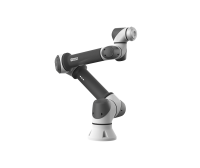 FOR IMMEDIATE RELEASE / PRURGENT

DETROIT, MI — Rainbow Robotics, the South Korean Company renowned for developing HUBO, the first bipedal humanoid robot and winner of the prestigious DARPA Robotics Challenge (DRC), is set to make a splash in the U.S. market with its innovative line of six-axis collaborative robots, or cobots.

After showcasing its RB-series cobots at Automate 2022 in Detroit, Rainbow Robotics has partnered with Cascar Robotics for distribution throughout North America. Bryan Peel, the founder of Cascar Robotics, expressed his enthusiasm for the partnership, saying, "We are thrilled to bring Rainbow Robotics to the United States. With the increased need for automation, it is exciting to partner with such an innovative company."

The RB line features five models: RB3-730, RB3-1200, RB5-850, RB10-1300, and RB16-900. Three additional models—RB1-500, RB20-1700, and RB25-2000—will be released later this year.

The RB-series cobots are designed for precision, speed, and compatibility with various industrial applications. Crafted from aluminum and steel, these robots run on a Linux-based operating system and feature advanced collision detection and gravity-compensation systems. As a result, they are suitable for a wide range of applications, including CNC machine tending and demolding of parts, with repeatability within 0.1mm.

Rainbow Robotics utilizes in-house manufacturing for nearly every component of their RB-series cobot. As a result, RB-series provides an attractive alternative to other OEM models with a higher quality standard and a price up to 30 percent lower than comparable products. As the Company expands into the U.S. market, its advanced robotics solutions promise to revolutionize the industry.

For more information, please visit www.cascararobotics or contact [Bryan Peel] at [bpeel
ballardintl.com] or [972.951.3143].