New fantasy novel completes the award-winning "Idol Makers" Book Series by Author, Sonja Dewing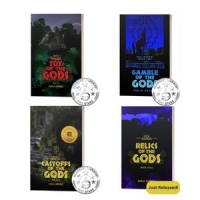 FOR IMMEDIATE RELEASE / PRURGENT

Albuquerque, 9/25/2023 — In her latest book, Relics of the Gods, renowned author, Sonja Dewing, delivers adventure and fantasy in a heart-pounding, page-turning, four-book series. The series chronicles the journey of two formidable female protagonists as they endeavor to save their friends and the world from impending peril.

"My passion for adventure and travel has influenced my writing and I feel that my personal experiences have added depth and authenticity to the series. From the busy streets of New York City to the teeming jungles of the Amazon." - Sonja Dewing

Dewing's commitment to crafting immersive and imaginative storytelling has earned her multiple awards and nominations, including her recent nomination for Best Author in New Mexico 2023 by New Mexico Entertainment Awards, where she was recognized as one of the top five authors in the state. Dewing's dedication to the world of literature extends beyond her writing, as she is also a celebrated publisher and the visionary founder of the Women's Thriller Writers Association.

"Dewing thrills with supernatural elements and action-packed adventure. I kept thinking I knew what was going to happen next, and I was wrong every time!" - Author, Ronin Romero.

In Relics of the Gods, AJ Bluehorse and Leslie Kicklighter are facing down half-god Alex who's bent on world domination. They'll have to find the second staff of Viracocha before Alex does or he'll warp the world into his own vision which means destruction for the world as we know it. With all four books now available, fans of fantasy literature can immerse themselves in a world of adventure, heroism, and the extraordinary.

To learn more about Sonja Dewing and "The Idol Maker" series, please visit sonjadewing.com. You can also find her on Facebook, Instagram, and TikTok.

The series, starting with Toy of the Gods, is available on Amazon, and will be available on Barnes and Noble and other online retailers in October 2023.