Modern Art and Star Trek Fans Have Seven New Posters to Add to Their Collections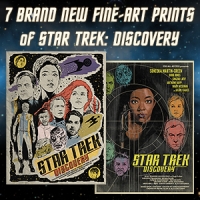 FOR IMMEDIATE RELEASE / PRURGENT


Austin, Texas – February 16, 2018 Bye Bye,Robot is announcing the launch of seven new Star Trek: Discovery prints, by returning artists Mark Brayer and Cliff Cramp and new artist J.J. Lendl.

The first new image is by returning artist Mark Brayer. His distinctive style is immediately noticeable with his strong use of color, graphic shapes, and illustrative linework in the detail. The balance between the ship and the planetscape draws the viewer's eye all the way through this design offering a glimpse into the new show. This 16"x24" print entitled "Discovery" fits right into his other book-cover style offerings.

Returning artist Cliff Cramp offers four new images to this release, three of which are hand numbered Limited Editions. His expressive painterly style brings an old world feel to modern science fiction. His use of deep tones and rich colors serve to show off the grandeur of the new show's adventures and characters. Featuring tones of purple, gold, and terra cotta are the three 18"x24" prints entitled: "U.S.S. Discovery" (hand numbered limited edition of 40 copies), "Beginnings," and "U.S.S. Shenzhou" (hand numbered limited edition of 40 copies). Each piece focuses on a detailed view of the ships or characters. His last print combines both, with a view of the U.S.S. Discovery containing a translucent image of Michael Burnham hinted at in the rainbow colored background. This 18"x24" print is entitled "Hope" and is a limited edition of 40 hand numbered copies.

The final two images are brought by new Bye Bye, Robot artist J.J. Lendl. His prints combine vintage influenced style with the contemporary nature of Star Trek: Discovery. These two 18"x24" prints are entitled, "DISCO 1" and "DISCO2." In them the viewer will find the use of muted colors, unique distressed textures, and detailed linework all combine together to give a retro feel to these new prints.

"Enthusiasts of Star Trek: Discovery will be ecstatic to see this stunning new collection of art prints all inspired by the new show," says Charity Wood, Co-Founder of Bye Bye, Robot.

Under license by CBS Consumer Products, each of the new art prints are printed on acid-free archival heavyweight cardstock and are available from $25 to $45 each. They are available in the U.S.A. for purchase, beginning today, from byebyerobot.com at the price listed above, plus regular shipping.

All episodes of Star Trek: Discovery's first season are currently available to stream on-demand across platforms on CBS All Access. For more information visit: cbs.com/allaccess

™ & © 2018 CBS Studios Inc. All Rights Reserved. STAR TREK and related marks are trademarks of CBS Studios Inc.

# # #

About Mark Brayer

Mark Brayer is a full time illustrator and cartoonist with his own studio, Lightspeed Studios, and has
been working in the field for over 25 years. He has created a vast amount of art for greeting cards, comic
books, illustrated characters, book covers and illustrations, magazines, corporate logos and branding,
websites and graphic design. His unique style and versatility has led to a wide spectrum of endeavors.

About Cliff Cramp

Cliff Cramp is an artist and educator, working more than full time at his craft. He works professionally,
creating artwork for many different avenues including; animation, film and products. All the while, being
a Professor of Illustration in the California University system, training up a new bevy of artists every
year.

About J.J. Lendl

J.J. Lendl is an artist, illustrator and designer originally from Pittsburgh. His work has reached a global audience, including such clients as 20th Century Fox and IDW Comics. J.J.'s unique style injects a wide array of vintage sensibilities into contemporary pop-culture subjects. Find more of his work at jjlendl.com.

About Bye Bye Robot, LLC

Founded in 2011 by Charity and Chris Wood, Bye Bye Robot is an independent publisher of art.
Currently, they are a licensed seller of original works of art based on all of Gene Roddenberry's live
action Star Trek™ TV series plus Original Series and Next Generation movies. Bye Bye Robot is dedicated
to creating deeply immersive, visually spectacular pieces of art that will amaze and inspire viewers for
generations. View their catalog at www.byebyerobot.com.