Agatha Maksimova was crowned with the title of 2-nd runner-up Miss Europe 2018 on November 10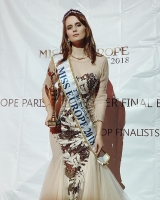 FOR IMMEDIATE RELEASE / PRURGENT


On November 10, the amazing 90 years old anniversary of Miss Europe was held at one of the most unique locations in the world - Eiffel Tower in Paris!


After the semi-final in May 2018 the best participants were selected to participate in the final. The final of Miss Europe 2018 was held on the first floor of the Eiffel Tower at The Gustave Eiffel Salon with beauty queens from around the whole world.


Miss Europe France 2018 Agatha Maksimova was crowned with the title of 2-nd runner-up Miss Europe 2018!

For her final appearance in evening gowns she came out in a gorgeous beige dress with a train created by french designer Christophe Guillarme!


About

Miss Europe is a beauty pageant with female contestants from all over Europe. It was established in February 1929 by French journalist Maurice de Waleffe, who also created, in 1920, what by 1927 had become the Miss France pageant. Miss Europa was first held at the Paris Opera with participants from 18 countries.

Currently Miss Europe is considered as the oldest beauty pageant in the world and one of the most prestigious because the winners of it get the best deals, the opportunity to be the special guest of the red carpet on the biggest festivals of the world. Miss Europe titles comes with a modelling contact and professional representation by the Miss Europe Organization, a cash prize, a tiara with 678 diamonds mounted on 130 grams of gold signed by Chopard and estimated 350 000 EUR.