On December 15th & 16th, the Union of Maine Visual Artists presents a Holiday show and sale.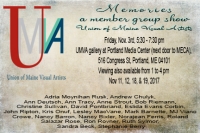 FOR IMMEDIATE RELEASE / PRURGENT


The Union of Maine Visual Artists – UMVA – will host a special Holiday Gift Show at their gallery space located at the Portland Media Center, 516 Congress St., (Next to MECA) in Portland's Art District on Saturday, December 15th and Sunday, December 16th from 11 am to 4 pm.

This event is free and open to the public.
Refreshments will be served.

Featured artists include Andrew Chulyk, Ann Tracy, Anne Strout, Christine Sullivan, Greg Harper, John Ripton, and William Hessian. You'll find photography, prints, monoprints, original acrylics and paintings plus mixed media and jewel

The Union of Maine Visual Artists is a nonprofit organization created for artists by artists that advocates for its members and provides a structure for artists to create projects, produce exhibitions, initiate affiliations and chapter groups throughout the state.

For more information, please call (207) 775-2900 or visit www.umvaonline.org.