The latest release of 2018 ez1095 software provides Human Resource staff features such as label printing and optional instructions. Visit halfpricesoft.com to test drive for up to 30 days.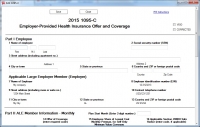 FOR IMMEDIATE RELEASE / PRURGENT


The latest ez1095 2018 (ACA) software from Halfpricesoft.com has been released to speed up 1095 ACA form returns. The latest release offers features such as label printing and optional instructions specifically for HR departments.

"ez1095 2018 ACA form reporting software has been released with new features for Human Resource departments ease of use. ez1095 software makes it easy to prepare, print and file 1095 and 1094 ACA forms." said Dr. Ge, the founder of Halfpricesoft.com.

ez1095 can support 1095C, 1094C, 1095B and 1094B forms paper printing, pdf printing and efiling for the upcoming tax season. The application has been implemented and approved by the SSA to print on plain white paper, saving form costs. Its quick data import feature saves customers valuable time and speeds up tax form filing.

ez1095 software has been created and released to adhere to the requirements by the government to file forms 1094 and 1095 starting in 2018. ez1095 software's graphical interface allows customers to set up company, add employees, add forms and print forms soon after download. Customers can also click form level help links to get more details regarding the software.

ez1095 ACA software is compatible with Windows 10, 8.1, 8, 7, Vista and other Windows system. Customers can run this desktop ACA software offline to protect employee data. New clients are welcome to test drive at https://www.halfpricesoft.com/aca-1095/form-1095-software-free-download.asp

Features include but are not limited to the following:

- Support unlimited companies.
- Support unlimited number of recipients.
- Fast data import feature
- Print ACA forms 1095 and 1094 on blank paper with inkjet or laser printer.
- Print unlimited number of 1095 and 1094 forms.
- Print Form 1095 C: Employer-Provided Health Insurance Offer and Coverage Insurance
- Print Form 1094 C: Transmittal of Employer-Provided Health Insurance Offer and Coverage Information Returns
- Print Form 1095-B: Health Coverage
- Print Form 1094-B: Transmittal of Health Coverage Information Return
- Print recipient copies in PDF format.
- Efile is available for $295 for faster filing options

Priced at just $195, ($295 for efile version) this ACA forms filing software saves employers time and money. To learn more about ez1095 ACA software, customers can visit http://www.halfpricesoft.com/aca-1095/aca-1095-software.asp

About halfpricesoft.com
Founded in 2003, Halfpricesoft.com has established itself as a leader in meeting the software needs of small businesses around the world with its payroll software, employee attendance tracking software, check printing software, W2 software, 1099 software and barcode generating software. It continues to grow with its philosophy that small business owners need affordable, user friendly, super simple, and totally risk-free software.