Model, actress, Miss Europe 2018 2nd runner-up Agatha Maksimova was elected as Miss Intercontinental France 2018 to represent France at the final of one of the most prestigious beauty contests Miss Intercontinental 2018!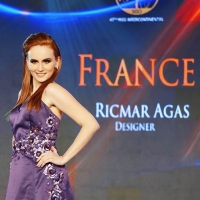 FOR IMMEDIATE RELEASE / PRURGENT


The final of the competition was held on January 26 in the capital of the Philippines Manila.

This competition is the fourth in a row after Miss Universe, Miss World and Miss International. The official media partners of the contest were the portal Missosology and the tv and news channel ABS-CBN.


The official host hotel for the 47th Miss Intercontinental was the SOFITEL PHILIPPINE PLAZA.

Agatha performed perfectly at the official shows and the final of the competition and according to the organizers of the competition, became one of the best Miss France Intercontinental in the history of the competition. She went on stage in the dress of French designer Christophe Guillarme with whom she constantly collaborates and in the dress of which she was at the final of Miss Europe 2018.

Agatha also appeared on stage in the dress of the Filipino designer Blas Aligno and in the dress of the Russian brand LOVE REPUBLIC.