At this year's InfoComm 2019, in Orlando, Florida, NoviSign Digital Signage will be featured in IAdea booth #455, showcasing the latest in interactive digital signage software technologies.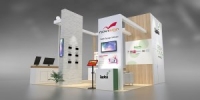 FOR IMMEDIATE RELEASE / PRURGENT


New York City, NY; Irvine, California -- May 16th, 2019, Global leader in feature-rich, easy-to-use digital signage software, NoviSign Digital Signage today announced that their touch screen digital signage software will be highlighted at IAdea's booth at InfoComm 2019. Solutions that will be available to interact with, include touch screen directional mapping, concierge-style infotainment, digital menu boards and more. Powering NoviSign's Digital Signage Software will be IAdea's new all-in-one XDS-2288 Android touch screen smart signboard and IAdea's high-performance enterprise-grade media player XMP-6400.

"In the digital signage industry, all too often companies talk about what they can do, but very rarely do people actually get to set it in person working," said Chad Bogan, Director of Sales and Marketing at NoviSign. "This will be a great opportunity for AV integrators to see first-hand how a working touchscreen system is deployed and works. We will be offering live software demos on NoviSign's Digital Signage showing high-level how the interactive content is made using our free-form design studio."

Design and Deploy Coding Free Touch Screen Digital Signage

Using NoviSign's cloud-based digital signage software, users can easily and quickly put together touch screen digital signage layouts without coding or HTML5. Whether you need a simple retail touch screen kiosk that features product specials or a dynamic wayfinding kiosk with turn by turn directions, NoviSign's free-form design Studio supports it all!

The best variety of drag-and-drop widgets
Customizable template library
Instagram, Facebook and Twitter
Outlook Exchange calendar integrations
YouTube and Ustream live videos
Create and manage new playlists
Advanced scheduling capabilities
Create and update playlists
Manage a single display or hundreds
Admin controls with multi-user control
Cloud media library for storing your media
Real-time content updates


The Media Player that Powers The Audience's Most Unforgettable Visual Experience

IAdea XMP-6400 is one of the world's first HDCP 1.4 compliant digital signage systems on the market. "Check Before You Deploy" has long been a convincing slogan of this highly robust, wide-temperature device. Also, perfect for live streaming applications at a sports bar or a restaurant, XMP-6400 offers HDMI in video input and enables users to create any animation contents using PowerPoint. Other best-selling features include:

Dual output including both HDMI and VGA outputs, allowing for more versatile applications. Play the same contents simultaneously for two different displays – do more for much less cost!
HDMI-In: Whether it's basketball or football, play it all you want and feel free to show your drink specials on the same screen during commercials!
RS232: Remote control is your best friend for all scales of deployments. Take about convenience at its best! RS232 port allows users to receive display information, such as device status or any trouble shooting and to turn the display on or off, via your IAdea player.
IP Streaming: Restaurants and pubs, corporations and schools, love to stream directly via IP videos on YouTube to engage with the audiences. IAdea's easy breezy firmware functionality enabling any YouTube video URL to be typed in and viola, let the fun begin.

"Since we opened doors in 2000, IAdea has evolved into a system-as-a-service company providing various digital signage solutions to facilities, such as workplace, retail, education and restaurants," said John C. Wang, CEO and Co-Founder of IAdea. "Broadening our ecosystem with partners like NoviSign will benefit all verticals and all users in the process of digital transformation."

About NoviSign's Digital Signage Software

NoviSign's Digital Signage Software is a comprehensive set of web-based tools designed to give users everything needed to develop and manage exceptional digital signage. Comprised of a full online Studio, rich scheduling tab, a dynamic reports and status dashboard NoviSign makes the process of creating stunning digital signage easy and fun. Also included with NoviSign's platform is a world-class support and training portal that offers step-by-step training videos, FAQ, complete technical documentation, phone support and online webinars.

About NoviSign

We believe digital signage was meant to be easy-to-use. Because of this belief, NoviSign has helped to establish over 20,000 screens covering 5 continents successfully deploy and manage beautiful digital signage campaigns. Some of NoviSign clients include Disney, Ikea, Dole, Home Depot, NASA, Nokia, Papa John's Pizza and more!

About IAdea

Founded in 2000, IAdea is an award-winning leader in enterprise-grade digital signage systems. IAdea's products include media players, all-in-one smart signboards, infinite video wall technology and device management software. With a strong Research and Development team in-house, IAdea's trusted solutions have been deployed throughout the corporate workplace, public transit and retail, powering more than 300,000 digital displays on a global scale.
As an industry-leading advocate of digital signage open platform, IAdea works tirelessly to ensure devices are seamlessly integrated with third-party software providers on the market, offering system integrators from all vertical markets proven robustness and lowered total cost of ownership (TCO). With offices worldwide, IAdea provides uninterrupted customer service across the world. For more information.