Milford-Haven USA broadcast reached 4.5 million in the U.K. on BBC Radio, now launches to a new audience as a podcast to millions in the U.S.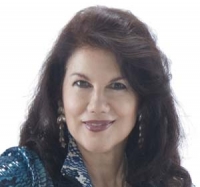 FOR IMMEDIATE RELEASE / PRURGENT


When Writer-Performer Mara Purl created her radio drama, she could never have predicted it would become the first American radio serial ever broadcast on BBC Radio, nor that it would reach a stunning listener base of 4.5 million.

"Daring to broadcast an American drama on the same air waves occupied by the finest radio dramas in the English language was brave, but foolhardy. We all felt jubilant . . . but terrified, too. When the BBC Executive called to tell us we had reached the largest audience share the network had—we were over the moon!"

September 9, 2019
Los Angeles, California

"We're moving from broad-casting to narrow-casting," explained producer-creator Purl. "Where broadcasting offers a community experience, narrow-casting offers an intimate experience. You listen to the drama privately, and the story with its characters, images and ideas unfolds in your own thinking," she continued.

"This was always the appeal of radio drama, which was dubbed 'Theatre of the Mind.' While broadcast media were abandoning their pathway to listeners by focusing on pre-packed playlists, content creators were grappling with new technologies and discovering they could deliver fantastic product directly to their listeners. So we moved from scatter-shot to targeted delivery."

What about serial stories? Don't people prefer stand-alone pieces that have a beginning, middle and end? "Well, that format works perfectly when you go to a movie theatre," Purl replied. "You sit in comfortable seats, you get the full arc of the story, and you head home satisfied. It's great! But some stories are much more complex, involving multiple story and character arcs. To tell that kind of story, you need an engaging serial, something you can watch—or listen to—at your own pace. That's why binge-watching has become a huge American pastime in recent years."

More than half the people in the United States have listened to a podcasts, and nearly one out of three listen to at least one podcasts a month—the biggest spike in podcast popularity since it first gained a foothold in 2004, according to the 2019 annual survey by Edison Research and Triton Digital, and reported by the New York Times. The survey also revealed that, while younger listeners may have jumped on the podcast-wagon early, it's the 55-plus listeners who are edging into the lead.

Milford-Haven is primed to take advantage of this enormous U.S. listener base from three sources. First, the show has top "creds" as the pioneer American radio serial on BBC, and also because it won the Finalist New York Festivals Award for Radio Drama. Second, Milford-Haven is now well-known to readers because of the novel series Mara created, for which her introductory blog tour captured 17 million followers. Third, Purl still has television and theatre followers.

For her Milford-Haven Novels Mara was just named 2019 Top Female Author for Fiction by The Authors Show. To date her series has won more than 30 book awards, and has topped multiple best-seller lists on both Amazon and Barnes & Noble. Her novels, novellas and novelettes with their gorgeous watercolor book covers and engaging mix of romance and mystery are sought after by her mostly female readers, where Mara has become a trail blazer for both Women's Fiction and Small-Town fiction.

Life in a small coastal town was the framework Purl chose for her original radio drama. Though she herself had lived only in large cities—Tokyo, New York, and Los Angeles—she spent a summer performing in California's gorgeous Central Coast and fell in love with Cambria, the charming town where the theatre was located. By night, the actress performed in the two-character play Sea Marks, almost never leaving the stage. By day, she explored how life functioned in a town with about 6,000 residents.

When she founded a production company and created "Milford-Haven U.S.A.", she called on well-known colleagues to join her cast. The all-star line-up, whose performances will be heard in the new podcasts, include television stars who've gone on to greater fame since. Names and credits at the time of Milford-Haven include: Erin Gray (Silver Spoons, Buck Rogers in the 25th Century), Linda Purl (Mattock, Happy Days), Ed Begley, Jr. (St. Elsewhere), Michael Horse (Twin Peaks), Colby Chester (The Young and the Restless) and Roger Kern (Young Pioneers, The Coach, The Nanny, Falcon Crest). It also included well-known radio and voice-over artists, Lloyd Battista (CBS Mystery Theatre), Sally Rainer (L.A. Law, Thirtysomething, The Wonder Years, War and Remembrance), Carl Esser (Street Angels, City of Sin, Crazed 2, and hundreds of radio commercials). Each episode begins with the signature Maine-twang of narrator Freedom Barry, whose voice first became famous as the narrator for In the Shadow of the Castle for the Hearst Castle.

About Mara Purl:

Mara Purl is the best-selling author of the Milford-Haven Novels & Novellas, which have won more than 30 book awards.

The first two novels of her planned pentalogy are What the Heart Knows and Where the Heart Lives with book three due for release later this year. The novellas include her latest, When Otters Play, winner of the American Fiction Award, as well as When Whales Watch (Global EBook Award) and When Hummers Dream. (USA Book News Award). Holiday novellas include Whose Angel Key Ring and Where an Angel's on A Rope. Her newest, due out in October, is When the Heart Listens.

Her most recent book tour, "Mapping the Journey of Your Heart" took her through California, Colorado, Arizona and New Mexico, and her concurrent national blog tour reached 17 million followers.

Purl is also the co-author, with Erin Gray, of Act Right: a Manual for the On-Camera Actor. As a journalist, Mara's writing credits include two cover stories for Rolling Stone, staff writing with the Financial Times (of London), and an Associated Press assignment to cover the Apollo Soyuz mission, where she was the youngest reporter ever to win the NASA pool position in Mission Control. She is a member of the Authors Guild and of the Writers Guild West.

As an actress, Mara's regular role on the TV soap opera Days Of Our Lives opened the door for her to create her own soap. Mara was awarded the 2003 Peak Award for performing her one-woman play (co-written with Sydney Swire) Mary Shelley – In Her Own Words. She has co-starred in six production of Sea Marks by Gardner McKay, and stars as Julia in Becoming Julia Morgan. Having been part of the all-star cast of Milford-Haven USA, she is now a noted audio book performer.

Mara is a frequent speaker at writing and author conferences, work privately as an authoring coach, and serves on the boards and advisory boards of several professional organizations.

Mara was named Woman of the Year by the Los Angeles County Commission for Women.