With her vibrant multi-cultured background, this Latin-Canadian/Saudi DJ, Producer, and Makeup Mogul is one to look out for!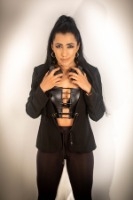 FOR IMMEDIATE RELEASE / PRURGENT

Music & Makeup: An Exotic Twist from the Middle East!

"Nothing exhibits strength more than taking on challenges and pushing forward when everyone expects you to sit back and be mediocre." – Viva

In Saudi Arabia's era of dynamic and rapid change, Viva is not one to shy away from new ventures and growth. As the co-founder of 7Zenith Business Consultancy and Founder of HRArabia.org, she has skillfully interfused her business and creative talents. With a passion and love for music, Viva launched her own music production and DJ brand in 2018, capturing the region with her alluring mix of electronic beats. Along with having original music released on all major music platforms, this modern, edgy businesswoman has played prominent roles in the local music industry, namely as Entertainment Director at Leylaty Group and Co-founder of EntertainmenTen, as well as playing for International platforms such as the world-renowned brand Coya, Nozomi, PlatinumList, YesTheory, Estee Lauder and proudly as Winter at Tantora's first DJ to land in Al-Ula for the Kingdom's Desert Polo match followed by DJ-ing the Kingdom's first Artificial Intelligence Artathon.

When asked why she likes being in the music field despite having high academic credentials, an MBA and PhD Candidate, Viva says, "I approach music much like I do the business or HR part of my life: I seek to create impact. For me, music isn't just about playing what I like, it's about allowing people to feel something when they're listening to my music, similar to how we build relationships in every part of our lives. Everyone can play the various genres of music, but it's a real skill to be able to seek out tracks that have an effect on the listener. Thus, it's a great feeling when people come to you expressing how they felt while listening to your music; you've succeeded in being impactful."

In February 2020, during the early stages of the Covid-19 outbreak, Viva pondered upon ideas of further establishing her brand, and as one of the last to fly back home as the lockdown began, she set her mind on establishing her own cosmetics line, one that reflected her multi-faceted and busy lifestyle. From coffee cup to meeting room, and on to evenings of luxury lounges or vibrant dancefloors, her brand Viva Cosmetics says two things: Classy & Fabulous. Hours turned into days and weeks of intricate branding, product selection, logistics & regulations, and building an expert team to fulfill her dream. Despite a successful first launch, Viva and her team is continuously are continuously developing and improving their already high-performance product standards to fulfill the ever-changing industry of fashion and makeup needs.

The shopping experience on the Viva Cosmetics website is unique in that Viva's new music is available to enhance and entertain the purchasers' shopping experience. Upon its initial launch, the limited-edition line quickly sold out, and will return with a full line of makeup merged with a music theme such as the Velvet Vibes lipstick and the Shadow Show eyeshadow palette.

With a vibrant multi-cultured background, this Latin-Canadian/Saudi DJ, Producer, and Makeup Mogul is one to look out for. STAY TUNED AS HER BRAND MOVES FROM STRENGTH TO STRENGTH IN 2020, WITH NEW MUSIC, ENTERTAINMENT, AND PRODUCT RELEASES!