This year-long effort aims to honor, celebrate, and build upon the progress Black CPAs have made in shaping the accounting profession.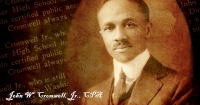 FOR IMMEDIATE RELEASE / PRURGENT

In 1921, 25 years after the first certified public accountant (CPA) certificate was granted in the U.S., John W. Cromwell, Jr. became the first Black CPA. He opened a door through which thousands of Black accountants would eventually pass.

With 2021 marking the 100th anniversary of Cromwell's landmark achievement, The Georgia Society of CPAs has joined with the American Institute of Certified Public Accountants Inc. (AICPA), Diverse Organization of Firms Inc., Illinois CPA Society, National Association of Black Accountants Inc., and National Society of Black CPAs Inc. to announce a year-long national awareness campaign that recognizes Black CPAs in the U.S. and that pushes for greater progress to be made in achieving diversity, inclusion, and equity in the CPA profession. Following Cromwell, it took a staggering 45 years for the first 100 Black accountants to be licensed as CPAs. Black CPAs account for less than 1 percent of all CPAs in the U.S., according to estimates by the National Association of Black Accountants Inc.

"The Board of Directors of The Georgia Society of CPAs is honored to have passed a resolution celebrating the 2021 Black CPA Centennial and recognizing the influence and impact Black CPAs have had in shaping our profession and country. Georgia's own Jesse B. Blayton, Sr., became the fourth Black CPA in the U.S. and provided the opportunity for many Black individuals to pursue their dream to become CPAs," said GSCPA Chair, Kirk Jarrett.

Each of the partner organizations and other stakeholders are united in advancing the following shared goals:

• Honoring the past: Educate accounting and finance professionals as well as the public about the barriers the first Black CPAs overcame by sharing their stories.

• Celebrating the progress: Recognize Black CPAs for influencing the profession, engendering trust, and breaking barriers.

• Building the future: Highlight Black CPAs who are blazing trails and creating legacies by becoming the first achievers in significant areas in the profession and society. Also, support Black student enrollment in accounting.

The website www.BlackCPACentennial.cpa offers resources and information related to the Black CPA Centennial commemoration, including ways for individuals and organizations (state CPA societies, universities, accounting firms, etc.) to participate.

About GSCPA?:
GSCPA is the premier professional organization for CPAs in the state of Georgia. With almost 13,000 members throughout the state, the purpose of GSCPA is to achieve excellence by providing superior advocacy, leadership, service, lifelong learning and personal and professional development opportunities. For more information, visit www.gscpa.org.