Have you ever experience great hurt ? Have you held on to places of unforgiveness in your heart unable to let go? This book travels us through the bible and God's perspective and thoughts towards obtaining and granting forgiveness.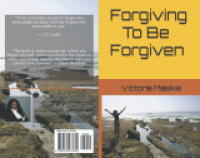 FOR IMMEDIATE RELEASE / PRURGENT

Intro

Forgiving to be Forgiven is an deep look into the walk of forgiving others that a Christian must understand to walk in and receive daily forgiveness. It explores the scriptures as the reader begins to understand how their walk with God in forgiveness is also connected to their ability to forgive others The book includes a scripture prayer journal as a guide to beginning the road to daily forgiveness.
.
Mini Author Bio

Elder Victoria Masika , has been involved in ministry since she was young. Born and raised in Richmond, VA and she attended Hampton University in Hampton VA where she received a BA degree in English Arts Education in 1998. However it was while at Hampton University, that God further directed her call into the ministry as she began leading worship, teaching bible study lessons and preaching in her local church.

In 2012 under the leadership of the Lord, Elder Victoria moved to Durham NC where she taught in both elementary and middle school. In 2012 she founded and established Divine Kingdom Para-Church Ministries which serves Durham NC and surrounding Areas, offering both natural and spiritual ministry. Elder Victoria was ordained and Licensed, as an Elder under Dorcas Enterprise Ministry in 2013 and became a part of the Elijah Reformation of Christ Priesthood under the covering of Apostle- Audrey Newell. Elder Victoria is a Prophetic Intercessory General within Dorcas' Prayer Shield Regional Intercessory Ministry, , and a member of the National Association for Christian Ministers.
Elder Victoria Masika is a teacher , Academic Dean and the Mother of 3 children. She has a passion and commitment to see souls saved and lives healed and set free. Her Ministry's Mission is that the body be fully equipped and spiritually healthy to fulfill Gods Purpose. "Being Confident of This Very Thing that he which has begun a good work in you will perform it until the day of Jesus Christ. " Phil 1:6".Click this text to start editing. This block allows you to add as many rows as you'd like, making it perfect for displaying a timeline, or narrating a business process. Click the green + sign on each row to add one below it.

.
Contact Details
Contact : kingdomproblemsolvers
gmail.com
www.forgivingtobeforgiven.com

Visit www.forgivingtobeforgiven today and order your copy.