LITTO took over a dome at the Wisdome Industry Night event on February 11, 2022.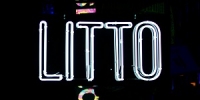 FOR IMMEDIATE RELEASE / PRURGENT

LOS ANGELES, CA. March 9, 2022. On February 11, 2022 LITTO took over a dome at the Wisdome Industry Night event. Hosted by Secret Sesh at the Wisdome in Los Angeles, the event was an opportunity for all industry workers to come together, mingle, and simply relax.

Inside the LITTO dome was an immersive experience from the moment individuals walked in to the moment they walked out. To set the scene, there were motion animations projected across the roof of the dome building along with dimmed lighting paired with black lights in varying displays. There were plenty of photo ops such as rave light cubes, LITTO neon displays, and even enlarged LITTO's.

This was LITTO's second event with Secret Sesh, however, it showed that the brand is ready to continue to be a part of various events expanding across California. Connecting with users and providing a "one-of-a-kind" experience is what LITTO plans to bring to every event.

About LITTO:
LITTO is a California-based company that emphasizes technology with its devices. When they released a line of disposable, rechargeable vape devices, a promise to provide an innovative product and brand that represents their users was established. LITTO is a brand that users can identify with, relate to, and feel a part of, while simultaneously providing an exceptionally consistent device. For more information visit www.itslitto.com.