New luxury models carry on tradition of being "Most Versatile Bag Available" for Apple portables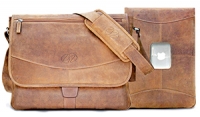 FOR IMMEDIATE RELEASE / PRURGENT

MacCase has unveiled a new suite of luxury leather messenger bags designed to protect and transport Apple's MacBook Pro and Air models. The new designs are part of the Premium Leather Collection of Apple-specific laptop cases, bags, and sleeves. Unlike other messenger bags with built-in sleeves to house the laptop, MacCase combines their messenger bag with one of their separate size-specific, Premium Leather MacBook Pro Sleeves. This allows the user to use them together or as individual cases, depending on their needs, creating the most versatile messenger bag package available for Apple portables.

"We took the proven performance of our leather messenger bag and combined it with the proven protection of our leather MacBook Pro sleeve. The result is an all-around, day-use bag with custom protection for any size MacBook Pro or MacBook Air model. This 2pc. package is unique in the industry and the adaptability is unmatched. Having a product that provides so much protection, utility and style is something that Apple owners and users will greatly appreciate," proclaims Michael Santoro, Chief Creative Officer and President of MacCase.

The sleeves that come as part of the package are available in the current Apple-specific sizes of 14" and 16" respectively. 13" and 15" sleeve-equipped Messenger Bags are also available for older Apple laptops. Both the sleeve and the bag are fully padded and lined. The bag features several large, zippered pockets along with a front panel organizer. The bundles are available in pebble grain black or a raw, distressed vintage brown. All leather is ethically sourced. The Premium Leather MacBook Pro Messenger Bags retails for $369.95 and are available at the company's site www.mac-case.com

About MacCase
MacCase invented the Apple-specific case market in 1998. The company offers two distinct product lines, one in nylon and one in leather that consists of a broad range of cases, messenger bags, sleeves, folios, and backpacks for Apple MacBook Pro and iPad Pro models. MacCase products can be found at Walmart.com, Staples.com, OfficeDepot.com, ClickHere2Shop, TopDawg, and Unbeatablesale.com. MacCase products can also be purchased directly from www.mac-case.com.