Join us for a special in-person event at Kendra Scott The Point! Kendra Scott is partnering with Abel's Dream Foundation to fundraise and help them continue to make a difference in their community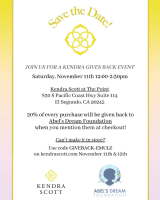 Date: 11/1/2023

FOR IMMEDIATE RELEASE

Abel's Dream Foundation Partners with Kendra Scott for an Inspiring Fundraising Event
[Los Angeles, California] – On November 11th, 2023, Abel's Dream Foundation is thrilled to announce an exciting collaboration with Kendra Scott The Point, a renowned fashion and lifestyle brand. This special in-person event is set to make a significant impact by rallying our community together to support our mission of empowering families with autistic children and other developmental disabilities.

Abel's Dream Foundation has been unwavering in our dedication to providing essential resources and support to families facing the unique challenges of autism and developmental disabilities. Through grants for school, in-home expenses, and health expenses, we have transformed countless lives, ensuring that these families have the support they need.
Our mission extends beyond childhood; we are committed to equipping adults with autism and disabilities with the skills, preparation, and job placement necessary for a life of fulfillment and productivity. We believe that every individual, regardless of their unique circumstances, should have the opportunity to lead a meaningful life.

But that's not all; Abel's Dream Foundation is also passionate about creating a compassionate and inclusive community. We are steadfast in our commitment to providing children and teens with access to crucial mental health services, educating them on the importance of mental well-being, and leading impactful anti-bullying campaigns. By addressing negative stigmas surrounding mental health, we aim to foster a culture of empathy, understanding, and support.

At Abel's Dream Foundation, we are deeply honored to partner with Kendra Scott The Point for this special event. On November 11th, 2023, we invite you to join us and be a part of this transformative journey. When you mention "Abel's Dream" while checking out at Kendra Scott, 20% of your purchase will be donated directly to our Foundation, enabling us to continue our vital work.

Event Details:

Date: 11th November 2023
Location: Kendra Scott The Point 830 S Pacific Coast Highway Ste #114 El Segundo, CA 90245
Time: 12pm-2pm

Eventbrite: https://www.eventbrite.com/e/kendra-gives-back-x-abels-dream-foundation-tickets-722983421877?utm-campaign=social&utm-content=attendeeshare&utm-medium=discovery&utm-term=listing&utm-source=cp&aff=ebdsshcopyurl

Or head over to our website: https://www.abelsdream.org/events
Follow us on Instagram: https://instagram.com/abelsdreamfoundation

Join us in making a lasting difference. Together, we can provide hope and support to families facing autism and developmental disabilities. Abel's Dream Foundation is here to remind you that you are not alone, and together, we can create a brighter future for all.
For media inquiries or additional information, please contact:
Desiree Campos desiree
abelsdream.org (310)363-0612

About Abel's Dream Foundation:
Abel's Dream Foundation is a non-profit organization dedicated to empowering families with autistic children and other developmental disabilities. We provide essential resources, support, and opportunities to ensure that these families thrive and lead fulfilling lives. Our mission is to create a caring community, promote mental well-being, and eradicate the negative stigmas surrounding developmental disabilities.

About Kendra Scott:
Kendra Scott is a renowned fashion and lifestyle brand celebrated for its exquisite jewelry, accessories, and home décor. Guided by the principles of family, fashion, and philanthropy, Kendra Scott believes that every person deserves a touch of beauty and a dose of kindness.