Manteca Indians and American Desi Society celebrated Durga Puja 2023 this year on Oct 27,28,29 at Manteca Senior Center. The theme was- Shakti Rupen Sansthita- elevate her voice; empower her path.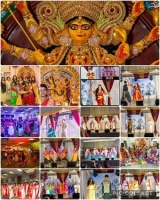 FOR IMMEDIATE RELEASE / PRURGENT

The Manteca Indians, in partnership with the American Desi Society, recently commemorated Durga Puja 2023 at the Manteca Senior Center. The three-day celebration featured rituals, cultural programs, and a fashion show, all centered around the theme "Shakti Rupen Sansthita," celebrating the embodiment of power in women. The rituals performed by a priestess with women acolytes.

The event included a talk show titled "Durga Saaga," where inspirational women shared their journeys, encouraging others to step forward.

Young girls participated in the unique "My Fairy Durga" fashion show, portraying weapons and lotuses of Devi Durga. The highlight was the fusion of dance and drama, "Divine Triumph - Victory over Mahisasur," showcasing kids' talents as budding actors. The community demonstrated its collective musical and dance skills, earning the Manteca team a certificate from the city for fostering community unity.